PATENT PENDING


THE EASIEST OIL CHANGE
ENGINE OIL DRAIN VALVE
---
Changing your oil is now easy with the EZ Oil Drain Valve!

Simply install this valve and drain your engine oil without the need for any tools and without creating a mess. Lift the lever of this nickel-plated brass ball valve and give it a quarter turn to open. To close, return the lever back to its original locked position.


Our NEW & IMPROVED design features offer significant advantages over our competitors.

KEY FEATURES:

-OPTIONAL HOSE ENDS
-NICKEL-PLATED BODY
-PLASTIC LEVER COVER
-VITON O-RING SEAL
-LASER ETCHED LOGO



WATCH HOW IT WORKS!
EZ OIL DRAIN VALVE

---
OPTIONAL HOSE ENDS

The EZ Oil Drain Valve now offers the new and improved OPTIONAL HOSE ENDS.

Instead of just draining the oil from the valve's drain hole, you may attach the optional Hose Ends to connect to a hose for draining the oil away from the engine. The user can choose from STRAIGHT HOSE END or L-SHAPED HOSE END to attach, depending on their application.

Just screw in the Hose End to the EZ Oil Drain Valve and tighten with a small wrench. The Hose Ends are interchangeable, making it easy to remove after changing your oil.
(Note: Hose Ends are sold separately)
STRAIGHT HOSE END

EASILY SCREWS INTO THE VALVE BODY

FOR USERS THAT PREFER USING A HOSE TO DRAIN OIL AWAY FROM THE ENGINE
FOR OIL PANS WITH A SIDE DRAIN
MAY BE REMOVED AFTER DRAINING OIL

---
---
L-SHAPED HOSE END

90 DEGREE ELBOW
EASILY SCREWS INTO THE VALVE BODY
PERFECT TO PREVENT HOSE KINKING

ADJUSTABLE HOSE END- ROTATES 360°
SECURE POSITION WITH THE BUILT-IN LOCK NUT
FOR LIMITED CLEARANCE APPLICATIONS


---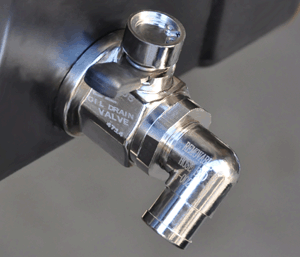 FIND A LOCAL EZ OIL DRAIN VALVE DEALER NEARBY
---
FITS ALL ENGINES

Sizes & Applications for all
-Cars -Buses
-Light trucks -Motorcycles
-RVs -Generators
-Vans -Marine engines
-Heavy-duty trucks -Farm Tractors
-Agricultural Machinery -Industrial Equipment
---
SOLID CONSTRUCTION

The ball valve design allows a straight flow for fast drainage and a flawless seal when locked closed, double sealed for guaranteed leak proof operation.

The ball valve design of the EZ Oil Drain Valve is a great design, because unlike spring-assisted gate valves, it can withstand higher pressure and engine vibration. Our valves have been rated and tested up to 250 PSI.

The EZ Oil Drain Valve incorporates the ball valve design with a nickel-plated body for additional protection from the elements.
---
---
SAVE MONEY

Reduce maintenance costs with the EZ Oil Drain Valve.

- ELIMINATE FROZEN DRAIN PLUGS AND STRIPPED THREADS
- PREVENT ENGINE DAMAGE FROM ROUTINE OIL ANALYSIS
- LESS DOWN TIME AND OPERATING EXPENSES
---
EASY INSTALLATION
How to install:

1. Remove drain plug and drain oil
2. Hand install the valve until tight, and give 1/8 turn with a small crescent wrench on the body. DO NOT OVER-TIGHTEN!
3. Close the lever and refill with engine oil

How to Drain Oil:

1. Lift up the lever and turn counter-clockwise.
2. Turn back the lever to close.
3. Make sure the lever is fully-closed and secured in its locked position.

(Adapter may be required for recessed oil pans.)

*Note: O-rings NOT required for (i.e. EZ-200, EZ-201, EZ-202, EZ-110) as they are self-tightening tapered threads.

ATTENTION!
For users under extreme conditions such as, off-road vehicles, agricultural tractors, and logging equipment (i.e. corn fields, brush areas), it is advised that a hose clip as shown below be applied for additional safety and security. Hose clips can be purchased at any hardware stores and will securely keep the lever closed in the locked position at all times.

---
WHERE TO BUY


---
CONTACT INFORMATION

Approved by many named OEMs :
To find out more, download a product brochure: